Toyota Corolla Cross: Unlocking and locking the back door from the outside
■ Smart key system (if equipped)
Carry the electronic key to enable this function.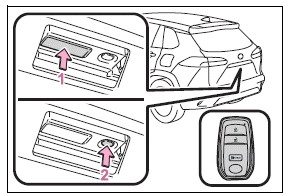 Unlocks all the doors
The doors cannot be unlocked for 3 seconds after the doors are locked.
Locks all the doors
Check that the door is securely locked.
■Luggage compartment light
The luggage compartment light turns on when the back door is opened.
If the luggage compartment light is left on when the engine switch is turned off, the light will go off automatically after 20 minutes.
READ NEXT:
■ Opening the back door Raise the back door while pushing up the back door opener switch. ■ Closing the back door Lower the back door using a back door handle, and then push the back door from th
■ Opening/closing the back door using the wireless remote control Press and hold the switch. Unlock the back door before operating. Pressing the switch while the back door is opening/closing will
The power back door system can be enabled/disabled on the multi-information display. 1. Select or of the multi-information display and then press . 4.2-inch display meter 2. Press or of meter contr
SEE MORE:
The rear view mirror's position can be adjusted to enable sufficient confirmation of the rear view. Adjusting the height of rear view mirror The height of the rear view mirror can be adjusted to suit your driving posture. Adjust the height of the rear view mirror by moving it up and down. WARNING
If the engine will not start even though correct starting procedures are being followed, consider each of the following points: The engine will not start even though the starter motor operates normally. One of the following may be the cause of the problem: There may not be sufficient fuel in the