Toyota Corolla Cross: Opening/closing the back door (vehicles without a power back door)
■ Opening the back door
Raise the back door while pushing up the back door opener switch.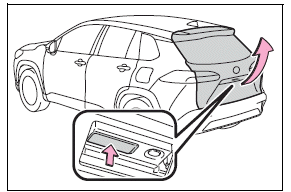 ■ Closing the back door
Lower the back door using a back door handle, and then push the back door from the outside to close it.
Be careful not to pull the back door sideways when using a handle.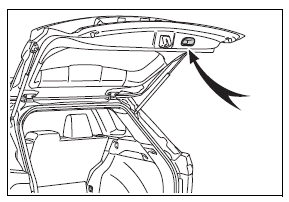 NOTICE
■Back door damper stays
The back door is equipped with damper stays that hold the back door in place.
Observe the following precautions.
Failure to do so may cause damage to the back door damper stay, resulting in malfunction.
Do not attach any foreign objects, such as stickers, plastic sheets, or adhesives to the damper stay rod.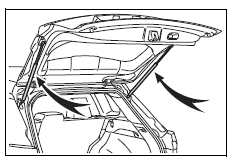 Do not touch the damper stay rod with gloves or other fabric items.
Do not attach any accessories other than genuine Toyota parts to the back door.
Do not place your hand on the damper stay or apply lateral forces to it.
READ NEXT:
■ Opening/closing the back door using the wireless remote control Press and hold the switch. Unlock the back door before operating. Pressing the switch while the back door is opening/closing will
The power back door system can be enabled/disabled on the multi-information display. 1. Select or of the multi-information display and then press . 4.2-inch display meter 2. Press or of meter contr
The open position of the power back door can be adjusted. 1. Stop the power back door at the desired position. 2. Press and hold the power back door switch on the back door for approximately 2 second
SEE MORE:
Your vehicle is equipped with a tire pressure warning system that uses tire pressure warning valves and transmitters to detect low tire inflation pressure before serious problems arise. The tire pressure warning system of this vehicle adopts a 2-type warning system. When "Adjust Pressure" is dis
Setting the vehicle speed 1. Press the driving assist mode select switch to select dynamic radar cruise control. The dynamic radar cruise control indicator will illuminate. 2. Using the accelerator pedal, accelerate or decelerate to the desired vehicle speed (approximately 20 mph [30 km/h] or more