Toyota Corolla Cross: Outside rear view mirrors
The rear view mirror's position can be adjusted to enable sufficient confirmation of the rear view.
■When using the outside rear view mirrors in a cold weather
When it is cold and the outside rear view mirrors are frozen, it may not be possible to fold/extend them or adjust the mirror surface. Remove the ice, snow, etc. covering the outside rear view mirrors.
WARNING
■Important points while driving
Observe the following precautions while driving.
Failure to do so may result in loss of control of the vehicle and cause an accident, resulting in death or serious injury.
Do not adjust the mirrors while driving.
Do not drive with the mirrors folded.
Both the driver and passenger side mirrors must be extended and properly adjusted before driving.
Adjustment procedure
1. To select a mirror to adjust, turn the switch.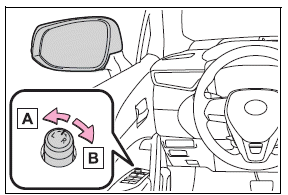 Left
Right
2. To adjust the mirror, operate the switch.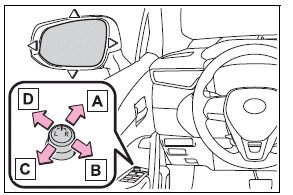 Up
Right
Down
Left
■Mirror angle can be adjusted when
The engine switch is in ACC or ON.
■When the mirrors are fogged up
The outside rear view mirrors can be cleared using the mirror defoggers.
Turn on the rear window defogger to turn on the outside rear view mirror defoggers.
WARNING
■When the mirror defoggers are operating
Do not touch the rear view mirror surfaces, as they can become very hot and burn you.
Folding the mirrors
Push the mirror back in the direction of the vehicle's rear.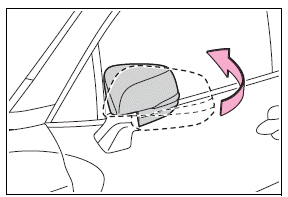 WARNING
■When a mirror is moving
To avoid personal injury and mirror malfunction, be careful not to get your hand caught by the moving mirror.
READ NEXT:
Opening and closing the power windows The power windows can be opened and closed using the switches. Operating the switch moves the windows as follows: Closing One-touch closing* Opening One-to
This function can be used to prevent children from accidentally opening or closing a passenger window. Press the switch. The indicator A will come on and the passenger windows will be locked. The p
SEE MORE:
The keys are equipped with the following wireless remote control: Vehicles without a smart key system Locks the doors Unlocks the doors Opens the windows*1 Sounds the alarm Vehicles with a smart key system Locks the doors Unlocks the doors Opens the windows*1 and moon roof*1, 2 Open
The emergency flashers are used to warn other drivers when the vehicle has to be stopped on the road due to a breakdown, etc. Operating instructions Press the switch. All the turn signal lights will flash. To turn them off, press the switch once again. ■Emergency flashers If the emergency fla