Toyota Corolla Cross: Trailer Tongue Weight
A recommended tongue weight varies in accordance with the types of trailers or towing as described below.
To ensure the recommended values shown below, the trailer must be loaded by referring to the following instructions.
The gross trailer weight should be distributed so that the tongue weight is 9% to 11%.
(Tongue weight/Gross trailer weight x 100 = 9% to 11%)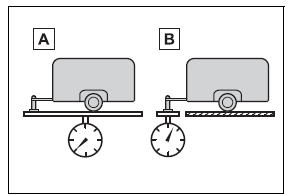 Gross trailer weight
Tongue weight
The gross trailer weight, gross axle weight and tongue weight can be measured with platform scales found at a highway weighing station, building supply company, trucking company, junk yard, etc.
READ NEXT:
Trailer hitch assemblies have different weight capacities. Toyota recommends the use of Toyota hitch/bracket for your vehicle. For details, contact your Toyota dealer. If you wish to install a trail
Weight carrying ball position: 37.5 in. (952.0 mm) Hitch receiver pin hole position: 31.6 in. (801.5 mm) Connecting trailer lights Please consult your dealer when installing trailer lights, as
Your vehicle will handle differently when towing a trailer. Help to avoid an accident, death or serious injury, keep the following in mind when towing: Speed limits for towing a trailer vary by sta
SEE MORE:
Your vehicle is equipped with tire pressure warning system with the function to have ID codes registered for a second wheel set, for example a winter set. You can register a second wheel set by yourself or your Toyota dealer. After registration of a second wheel set, either of these two wheel sets
■ Locations of gauges and meters The units of measure may differ depending on the intended destination of the vehicle. Tachometer Displays the engine speed in revolutions per minute Outside temperature Displays the outside temperature within the range of -40ºF (-40ºC) to 140ºF (60ºC)