Toyota Corolla Cross: Tire information
Typical tire symbols
Full-size tire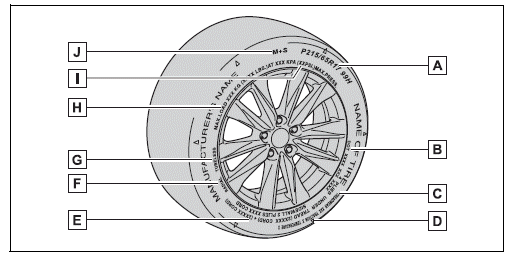 Tire size
DOT and Tire Identification Number (TIN)
Uniform tire quality grading
For details, see "Uniform Tire Quality Grading" that follows.
Location of treadwear indicators
Tire ply composition and materials
Plies are layers of rubber-coated parallel cords. Cords are the strands which form the plies in a tire.
Radial tires or bias-ply tires
A radial tire has "RADIAL" on the sidewall. A tire not marked "RADIAL" is a bias-ply tire.
TUBELESS or TUBE TYPE
A tubeless tire does not have a tube and air is directly put into the tire. A tube type tire has a tube inside the tire and the tube maintains the air pressure.
Load limit at maximum cold tire inflation pressure
Maximum cold tire inflation pressure
This means the pressure to which a tire may be inflated.
Summer tires or all season tires
An all season tire has "M+S" on the sidewall. A tire not marked "M+S" is a summer tire.
Compact spare tire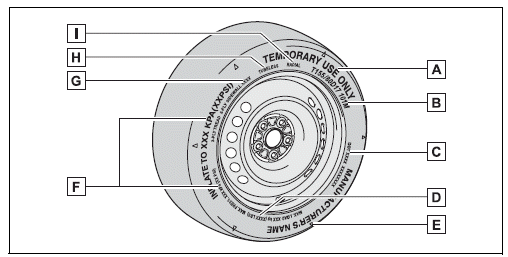 "TEMPORARY USE ONLY"
A compact spare tire is identified by the phrase "TEMPORARY USE ONLY" molded on its sidewall. This tire is designed for temporary emergency use only.
Tire size
DOT and Tire Identification Number (TIN)
Load limit at maximum cold tire inflation pressure
Location of treadwear indicators
Maximum cold tire inflation pressure
This means the pressure to which a tire may be inflated.
Tire ply composition and materials
Plies are layers of rubber-coated parallel cords. Cords are the strands which form the plies in a tire.
TUBELESS or TUBE TYPEV A tubeless tire does not have a tube and air is directly put into the tire. A tube type tire has a tube inside the tire and the tube maintains the air pressure.
Radial tires or bias-ply tires
A radial tire has "RADIAL" on the sidewall. A tire not marked "RADIAL" is a bias-ply tire.
READ NEXT:
Type A DOT symbol* Tire Identification Number (TIN) Tire manufacturer's identification mark Tire size code Manufacturer's optional tire type code (3 or 4 letters) Manufacturing week Manufa
This information has been prepared in accordance with regulations issued by the National Highway Traffic Safety Administration of the U.S. Department of Transportation. It provides the purchasers and
Customizable features Your vehicle includes a variety of electronic features that can be personalized to suit your preferences. The settings of these features can be changed using the multi-informatio
SEE MORE:
The intuitive parking assist can be enabled/disabled on of the multi-information display. When the intuitive parking assist function is disabled, the intuitive parking assist OFF indicator illuminates. To re-enable the system when it was disabled, select on the multi-information display, select
Your vehicle is equipped with a spare tire. The flat tire can be replaced with the spare tire. WARNING ■If you have a flat tire Do not continue driving with a flat tire. Driving even a short distance with a flat tire can damage the tire and the wheel beyond repair, which could result in an acciden