Toyota Corolla Cross: Rear seats
The seatbacks of the rear seats can be folded down.
Folding down the rear seatbacks
1. Move the front seats forward.
2. Stow the rear armrest. (if equipped).
3. Stow the rear center seat belt buckle.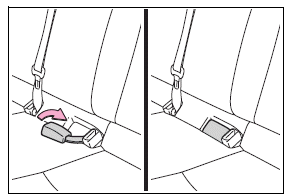 4. Lower the head restraints to the lowest position.
5. Fold the seatback down while pulling the seatback lock release lever.
Each seatback may be folded separately.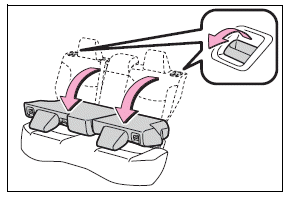 WARNING
Observe the following precautions.
Failure to do so may result in death or serious injury.
■When folding the rear seatbacks down
Do not fold the seatbacks down while driving.
Stop the vehicle on level ground, set the parking brake and shift the shift lever to P.
Do not allow anyone to sit on a folded seatback or in the luggage compartment while driving.
Do not allow children to enter the luggage compartment.
Be careful not to get your hand caught when folding the rear seatbacks.
Adjust the position of the front seats before folding down the rear seatbacks so that the front seats do not interfere with the rear seatbacks when folding down the rear seatbacks.
■After returning the rear seatback to the upright position
Make sure that the seatback is securely locked in position by lightly pushing it back and forth.
Check that the seat belts are not twisted or caught in the seatback.
If the seat belt gets caught between the seatback's securing hook and latch, it may damage the seat belt.
READ NEXT:
Head restraints are provided for all seats. WARNING ■Head restraint precautions Observe the following precautions regarding the head restraints. Failure to do so may result in death or serious inju
Adjustment procedure 1. Hold the steering wheel and push the lever down. 2. Adjust to the ideal position by moving the steering wheel horizontally and vertically. After adjustment, pull the lever up
SEE MORE:
Observe the following before starting off in the vehicle to ensure safety of driving. Floor mat Use only floor mats designed specifically for vehicles of the same model and model year as your vehicle. Fix them securely in place onto the carpet. 1. Insert the retaining hooks (clips) into the floor ma
1. Stop the vehicle completely. 2. Set the parking brake, and shift the shift lever to P. Check the parking brake indicator is illuminated. Do not press the shift lever button after shifting the shit position to P. 3. Press the engine switch. The engine will stop, and the meter display will be ex