Toyota Corolla Cross: Power outlet
The power outlet can be used for 12 V accessories that run on less than 10 A.
Lift the lid while pulling up the knob and open the power outlet lid.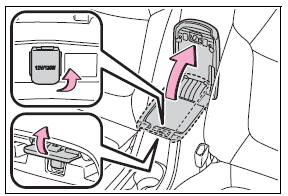 ■The power outlet can be used when
The engine switch is in ACC or ON.
■Using the power outlet
When the engine restarts after having been stopped by the Stop & Start system, the power outlets may be temporarily unusable, but this is not a malfunction.
■When turning the engine switch off
Disconnect electrical devices with charging functions, such as mobile battery packs.
If such devices are left connected, the engine switch may not be turned off normally.
NOTICE
■To prevent the fuse from being blown
Do not use an accessory that uses more than 12 V 10 A.
■To avoid damaging the power outlet
Close the power outlet lid when the power outlet is not in use.
Foreign objects or liquids that enter the power outlet may cause a short circuit.
■To prevent the battery from being discharged
Do not use the power outlet longer than necessary when the engine is not running.
READ NEXT:
A portable device, such as a smartphone or mobile battery, can be charged by just placing it on the charging area, provided the device is compatible with the Qi wireless charging standard created by t
To set the visor in the forward position, flip it down. To set the visor in the side position, flip down, unhook, and swing it to the side. To use the side extender, place the visor in the si
Fold down the armrest for use. NOTICE ■To prevent damage to the armrest Do not apply too much load on the armrest. Assist grips An assist grip installed on the ceiling can be used to support your b
SEE MORE:
■Exterior Side doors Locking/unlocking Opening/closing the side windows Locking/unlocking by using the mechanical key*1 Warning messages Back door Opening from inside the cabin*2 Opening from outside Warning messages Outside rear view mirrors Adjusting the mirror angle Folding the mi
Operating instructions Right turn Lane change to the right (move the lever partway and release it) The right hand signals will flash 3 times. Lane change to the left (move the lever partway and release it) The left hand signals will flash 3 times. Left turn ■Turn signals can be oper