Toyota Corolla Cross: Using the mechanical key (vehicles with a smart key system)
To take out the mechanical key, slide the release button and take the key out.
The mechanical key can only be inserted in one direction, as the key only has grooves on one side. If the key cannot be inserted in a lock cylinder, turn it over and re-attempt to insert it.
After using the mechanical key, store it in the electronic key.
Carry the mechanical key together with the electronic key.
If the electronic key battery is depleted or the entry function does not operate properly, you will need the mechanical key.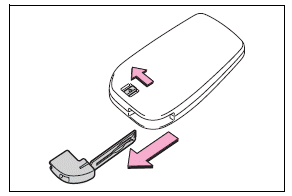 ■If a wrong key is used
The key cylinder rotates freely, isolated from the internal mechanism.
READ NEXT:
■ Smart key system (if equipped) Carry the electronic key to enable this function. Grip the driver's door handle to unlock the door. Holding the driver's door handle for approximately 2 seconds u
■ Door lock switches (to lock/unlock) Locks all the doors Unlocks all the doors ■ Inside lock buttons Locks the door Unlocks the door The front doors can be opened by pulling the inside
SEE MORE:
The door cannot be opened from inside the vehicle when lock is set. Unlock Lock These locks can be set to prevent children from opening the rear doors. Push down on each rear door switch to lock both rear doors. Automatic door locking and unlocking systems The following functions can be set or
■ When installing a child restraint system to a front passenger seat For the safety of a child, install a child restraint system to a rear seat. When installing a child restraint system to a front passenger seat is unavoidable, adjust the seat as follows and install the child restraint system: M