Toyota Corolla Cross: Seat belts
Make sure that all occupants are wearing their seat belts before driving the vehicle.
WARNING
Observe the following precautions to reduce the risk of injury in the event of sudden braking, sudden swerving or an accident.
Failure to do so may cause death or serious injury.
■Wearing a seat belt
Ensure that all passengers wear a seat belt.
Always wear a seat belt properly.
Each seat belt should be used by one person only. Do not use a seat belt for more than one person at once, including children.
Toyota recommends that children be seated in the rear seat and always use a seat belt and/or an appropriate child restraint system.
To achieve a proper seating position, do not recline the seat more than necessary. The seat belt is most effective when the occupants are sitting up straight and well back in the seats.
Do not wear the shoulder belt under your arm.
Always wear your seat belt low and snug across your hips.
■Pregnant women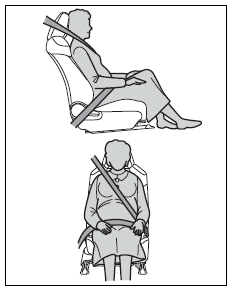 Obtain medical advice and wear the seat belt in the proper way.
Women who are pregnant should position the lap belt as low as possible over the hips in the same manner as other occupants, extending the shoulder belt completely over the shoulder and avoiding belt contact with the rounding of the abdominal area.
If the seat belt is not worn properly, not only the pregnant woman, but also the fetus could suffer death or serious injury as a result of sudden braking or a collision.
■People suffering illness
Obtain medical advice and wear the seat belt in the proper way.
■Seat belt damage and wear
Do not damage the seat belts by allowing the belt, plate, or buckle to be jammed in the door.
READ NEXT:
Extend the shoulder belt so that it comes fully over the shoulder, but does not come into contact with the neck or slide off the shoulder. Position the lap belt as low as possible over the hi
1. To fasten the seat belt, push the plate into the buckle until a click sound is heard. 2. To release the seat belt, press the release button A. ■Emergency locking retractor (ELR) The retractor w
The SRS airbags deploy when the vehicle is subjected to certain types of severe impact that may cause significant injury to the occupants. The airbags work together with the seat belts to help reduce
SEE MORE:
■ Anchor brackets (for top tether strap) Anchor brackets are provided for each rear seat. Use anchor brackets when fixing the top tether strap. Anchor brackets Top tether strap ■ Fixing the top tether strap to the anchor bracket Install the child restraint system in accordance to the opera
■ Driving support system information Select to display the operational status of the following systems: LTA (Lane Tracing Assist) LDA (Lane Departure Alert) PCS (Pre-Collision System) Dynamic radar cruise control RSA (Road Sign Assist) (if equipped) ■ Navigation system-linked display (if