Toyota Corolla Cross: Fastening and releasing the seat belt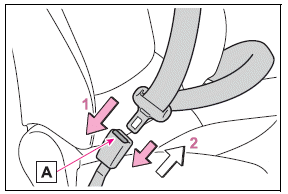 1. To fasten the seat belt, push the plate into the buckle until a click sound is heard.
2. To release the seat belt, press the release button A.
■Emergency locking retractor (ELR)
The retractor will lock the belt during a sudden stop or on impact. It may also lock if you lean forward too quickly. When the seat belt locks, pull the belt strongly and then release the belt, then a slow and easy pulling will allow the belt to extend.
■Automatic locking retractor (ALR)
When a passenger's shoulder belt is completely extended and then retracted even slightly, the belt is locked in that position and cannot be extended. This feature is used to hold the child restraint system (CRS) firmly. To free the belt again, fully retract the belt and then pull the belt out once more.
■After using the rear center seat belt
Stow seat belt buckle in the pocket.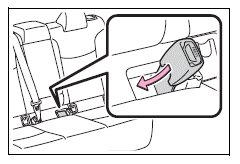 Adjusting the seat belt shoulder anchor height (front seats)
1. Push the seat belt shoulder anchor down while pressing the release button A.
2. Push the seat belt shoulder anchor up while pressing the release button A.
Move the height adjuster up and down as needed until you hear a click.
WARNING
■Adjustable shoulder anchor
Always make sure the shoulder belt is positioned across the center of your shoulder. The belt should be kept away from your neck, but not falling off your shoulder.
Failure to do so could reduce the amount of protection in an accident and cause death or serious injuries in the event of a sudden stop, sudden swerve or accident.
Seat belt pretensioners (front and outboard rear seats)
When the vehicle is subjected to a severe frontal or side impact or rollover, the pretensioners retract the seat belts of the front seats and rear outer seats to securely restrain the occupants.
The pretensioners will not operate in minor frontal or side impacts, or rear impacts.
■Replacing the belt after the pretensioner has been activated
If the vehicle is involved in multiple collisions, the pretensioner will activate for the first collision, but will not activate for the second or subsequent collisions.
■PCS-linked control If the PCS (Pre-Collision System) determines that the possibility of a collision with a vehicle is high, the seat belt pretensioners will be prepared to operate.
WARNING
■Seat belt pretensioners
Observe the following precautions to reduce the risk of injury in the event of sudden braking or an accident. Failure to do so may result in death or serious injury.
READ NEXT:
The SRS airbags deploy when the vehicle is subjected to certain types of severe impact that may cause significant injury to the occupants. The airbags work together with the seat belts to help reduce
Your vehicle is equipped with a front passenger occupant classification system. This system detects the conditions of the front passenger seat and activates or deactivates the following SRS airbags.
Harmful substance to the human body is included in exhaust gases if inhaled. WARNING Exhaust gases include harmful carbon monoxide (CO), which is colorless and odorless. Observe the following precauti
SEE MORE:
A child restraint system for a small child or baby must itself be properly restrained on the seat with the lap portion of the lap/shoulder belt. ■ Installing child restraint system using a seat belt (child restraint lock function belt) Install the child restraint system in accordance to the operat
The multi-information display is operated using the meter control switches. : Select menu icons : Change displayed content, scroll up/down the screen and move the cursor up/down Press: Enter/Set Press and hold: Reset/Display customizable items Return to the previous screen Call sending/