Toyota Corolla Cross: Correct use of the seat belts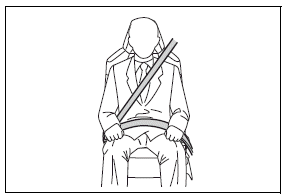 Extend the shoulder belt so that it comes fully over the shoulder, but does not come into contact with the neck or slide off the shoulder.
Position the lap belt as low as possible over the hips.
Adjust the position of the seatback. Sit up straight and well back in the seat.
Do not twist the seat belt.
■Child seat belt usage
The seat belts of your vehicle were principally designed for persons of adult size.
Use a child restraint system appropriate for the child, until the child becomes large enough to properly wear the vehicle's seat belt.
When the child becomes large enough to properly wear the vehicle's seat belt, follow the instructions regarding seat belt usage.
■Seat belt extender
If your seat belts cannot be fastened securely because they are not long enough, a personalized seat belt extender is available from your Toyota dealer free of charge.
WARNING
■Using a seat belt extender
Do not wear the seat belt extender if you can fasten the seat belt without the extender.
Do not use the seat belt extender when installing a child restraint system because the belt will not securely hold the child restraint system, increasing the risk of death or serious injury in the event of an accident.
The personalized extender may not be safe on another vehicle, when used by another person, or at a different seating position other than the one originally intended.
NOTICE
■When using a seat belt extender
When releasing the seat belt, press on the buckle release button on the extender, not on the seat belt.
This helps prevent damage to the vehicle interior and the extender itself.
READ NEXT:
1. To fasten the seat belt, push the plate into the buckle until a click sound is heard. 2. To release the seat belt, press the release button A. ■Emergency locking retractor (ELR) The retractor w
The SRS airbags deploy when the vehicle is subjected to certain types of severe impact that may cause significant injury to the occupants. The airbags work together with the seat belts to help reduce
Your vehicle is equipped with a front passenger occupant classification system. This system detects the conditions of the front passenger seat and activates or deactivates the following SRS airbags.
SEE MORE:
■ GCWR (Gross Combination Weight Rating) The maximum allowable gross combination weight. The gross combination weight is the sum of the total vehicle weight (including the occupants, cargo and any optional equipment installed on the vehicle) and the weight of the trailer being towed (including the
The emergency driving stop system is a system which automatically decelerates and stops the vehicle within its lane if the driver becomes unable to continue driving the vehicle, such as if they have suffered a medical emergency, etc. During LTA (Lane Tracing Assist) control, if the system does not