Toyota Corolla Cross: Hood
Opening the hood
1. Pull the hood lock release lever.
The hood will pop up slightly.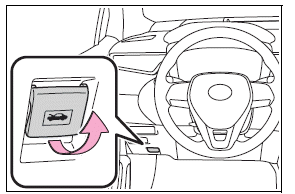 2. Pull the auxiliary catch lever to the left and lift the hood.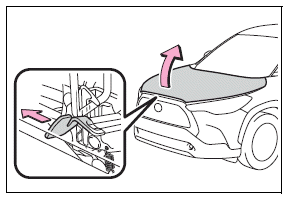 3. Hold the hood open by inserting the support rod into the slot.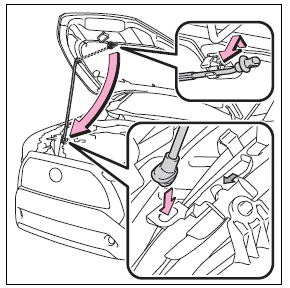 WARNING
■Pre-driving check
Check that the hood is fully closed and locked.
If the hood is not locked properly, it may open while the vehicle is in motion and cause an accident, which may result in death or serious injury.
■After installing the support rod into the slot
Make sure the rod supports the hood securely preventing it from falling down onto your head or body.
NOTICE
■When closing the hood
Be sure to return the support rod to its clip before closing the hood.
Closing the hood with the support rod not clipped could cause the hood to bend.
READ NEXT:
When using a floor jack, follow the instructions in the manual provided with the jack and perform the operation safely. When raising your vehicle with a floor jack, position the jack correctly. Impro
Components Washer fluid tank Engine coolant reservoir Engine oil filler cap Engine oil level dipstick Battery Brake fluid reservoir Fuse boxes Radiator Condenser Electric cooling
■ Checking the oil type and preparing the item needed Make sure to check the oil type and prepare the items needed before adding oil. Engine oil selection Oil quantity (Low → Full) 1.6 qt. (1.
SEE MORE:
Basic functions The LDA system warns the driver if the vehicle may deviate from the current lane or course*, and also can slightly operate the steering wheel to help avoid deviation from the lane or course*. The front camera is used to detect lane lines or a course*. *: Boundary between the asphal
1. Chock the tires. 2. Vehicles with a steel wheel: Remove the wheel ornament using the wrench. Insert the wrench into the notch A on the wheel cap. To protect the wheel ornament, place a rag between the wrench and the wheel ornament. 3. Slightly loosen the wheel nuts (one turn). Vehicles with