Toyota Corolla Cross: Adding engine oil
■ Checking the oil type and preparing the item needed
Make sure to check the oil type and prepare the items needed before adding oil.
Engine oil selection
Oil quantity (Low → Full)
1.6 qt. (1.5 L, 1.3 Imp. qt.)
Item
Clean funnel
■ Adding engine oil
If the oil level is below or near the low level mark, add engine oil of the same type as that already in the engine.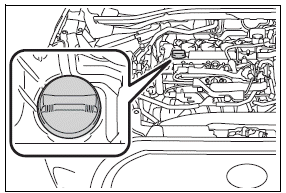 1. Remove the oil filler cap by turning it counterclockwise.
2. Add engine oil slowly, checking the dipstick.
3. Install the oil filler cap by turning it clockwise.
■Engine oil consumption
A certain amount of engine oil will be consumed while driving. In the following situations, oil consumption may increase, and engine oil may need to be refilled in between oil maintenance intervals.
When the engine is new, for example directly after purchasing the vehicle or after replacing the engine
If low quality oil or oil of an inappropriate viscosity is used
When driving at high engine speeds or with a heavy load, when towing, or when driving while accelerating or decelerating frequently
When leaving the engine idling for a long time, or when driving frequently through heavy traffic
WARNING
■Used engine oil
NOTICE
■To prevent serious engine damage
Check the oil level on a regular basis.
■When replacing the engine oil
Be careful not to spill engine oil on the vehicle components.
Avoid overfilling, or the engine could be damaged.
Check the oil level on the dipstick every time you refill the vehicle.
Be sure the engine oil filler cap is properly tightened.
READ NEXT:
The coolant level is satisfactory if it is between the "MAX" and "MIN" lines on the reservoir when the engine is cold. Reservoir "MAX" line "MIN" line If the level is on or below the "MIN" line,
Check the battery as follows. ■ Battery exterior Make sure that the battery terminals are not corroded and that there are no loose connections, cracks, or loose clamps. Terminals Hold-down clamp
Add washer fluid in the following situations: A washer does not work. The warning message appears on the multi-information display. WARNING ■When adding washer fluid Do not add washer fluid w
SEE MORE:
You must only use unleaded gasoline. Select octane rating of 87 (Research Octane Number 91) or higher. Use of unleaded gasoline with an octane rating lower than 87 may result in engine knocking. Persistent knocking can lead to engine damage. At minimum, the gasoline you use should meet the specifi
■ Objects that can be detected while driving The Blind Spot Monitor uses rear side radar sensors to detect the following vehicles traveling in adjacent lanes and advises the driver of the presence of such vehicles via the indicators on the outside rear view mirrors. Vehicles that are traveling