Toyota Corolla Cross: Battery
Check the battery as follows.
■ Battery exterior
Make sure that the battery terminals are not corroded and that there are no loose connections, cracks, or loose clamps.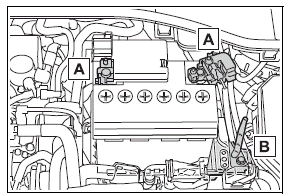 Terminals
Hold-down clamp
■Before recharging
When recharging, the battery produces hydrogen gas which is flammable and explosive. Therefore, observe the following precautions before recharging:
If recharging with the battery installed on the vehicle, be sure to disconnect the ground cable.
Make sure the charger is off when connecting and disconnecting the charger cables to the battery.
■After recharging/reconnecting the battery (vehicles with a smart key system)
Unlocking the doors using the smart key system may not be possible immediately after reconnecting the battery. If this happens, use the wireless remote control or the mechanical key to lock/unlock the doors.
Start the engine with the engine switch in ACC. The engine may not start with the engine switch turned off. However, the engine will operate normally from the second attempt.
The engine switch mode is recorded by the vehicle. If the battery is reconnected, the vehicle will return the engine switch mode to the status it was in before the battery was disconnected. Make sure to turn off the engine before disconnecting the battery. Take extra care when connecting the battery if the engine switch mode prior to discharge is unknown.
If the system will not start even after multiple attempts, contact your Toyota dealer.
WARNING
■Chemicals in the battery
The battery contains poisonous and corrosive sulfuric acid and may produce hydrogen gas which is flammable and explosive. To reduce the risk of death or serious injury, take the following precautions while working on or near the battery:
Do not cause sparks by touching the battery terminals with tools.
Do not smoke or light a match near the battery.
Avoid contact with eyes, skin and clothes.
Never inhale or swallow electrolyte.
Wear protective safety glasses when working near the battery.
Keep children away from the battery.
■Where to safely charge the battery
Always charge the battery in an open area. Do not charge the battery in a garage or closed room where there is insufficient ventilation.
■Emergency measures regarding electrolyte
■When disconnecting the battery
Do not disconnect the negative (-) terminal on the body side. The disconnected negative (-) terminal may touch the positive (+) terminal, which may cause a short and result in death or serious injury.
NOTICE
■When recharging the battery
Never recharge the battery while the engine is running. Also, be sure all accessories are turned off.
READ NEXT:
Add washer fluid in the following situations: A washer does not work. The warning message appears on the multi-information display. WARNING ■When adding washer fluid Do not add washer fluid w
Replace or rotate tires in accordance with maintenance schedules and treadwear. Checking tires Check if the treadwear indicators are showing on the tires. Also check the tires for uneven wear, such a
Your vehicle is equipped with a tire pressure warning system that uses tire pressure warning valves and transmitters to detect low tire inflation pressure before serious problems arise. The tire pres
SEE MORE:
Observe the following precautions when children are in the vehicle. Use a child restraint system appropriate for the child, until the child becomes large enough to properly wear the vehicle's seat belt. It is recommended that children sit in the rear seats to avoid accidental contact with the
To set the visor in the forward position, flip it down. To set the visor in the side position, flip down, unhook, and swing it to the side. To use the side extender, place the visor in the side position, then slide it backward. (if equipped) Vanity mirrors Slide the cover to open. The v