Toyota Corolla Cross: Display and menu icons
■ Display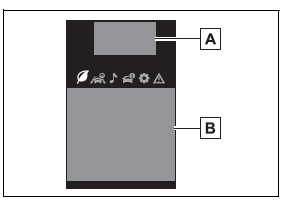 Driving support system status display area
Displays an image when the following systems are operating and a menu icon other than

is selected:
LTA (Lane Tracing Assist)
LDA (Lane Departure Alert)
Dynamic radar cruise control
RSA (Road Sign Assist) (if equipped)
Content display area
By selecting menu icons on the multi-information display, a variety of driving-related information can be displayed. The multi-information display can also be used to change display settings and other vehicle settings.
Warning or advice pop-up displays are also displayed in certain situations.
■ Menu icons
The menu icons will be displayed by pressing the

or

meter control switch.

Driving information display

Driving support system information display

Audio system-linked display

Vehicle information display

Settings display

Warning message display
■Liquid crystal display
Small spots or light spots may appear on the display. This phenomenon is characteristic of liquid crystal displays, and there is no problem continuing to use the display.
WARNING
■Caution for use while driving
When operating the multi-information display while driving, pay extra attention to the safety of the area around the vehicle.
Do not look continuously at the multi-information display while driving as you may fail to see pedestrians, objects on the road, etc. ahead of the vehicle.
READ NEXT:
The multi-information display is operated using the meter control switches. : Select menu icons : Change displayed content, scroll up/down the screen and move the cursor up/down Press: Enter/
■ Display items Speedometer display/Driving range Fuel economy Eco Driving Indicator/Driving range ■ Speedometer display/Driving range Speedometer display Driving range Displays driving
■ Driving support system information Select to display the operational status of the following systems: LTA (Lane Tracing Assist) LDA (Lane Departure Alert) PCS (Pre-Collision System) Dynamic r
SEE MORE:
The garage door opener can be programmed using the HomeLink to operate garage doors, gates, entry doors, door locks, home lighting systems, security systems, and other devices. System components The HomeLink wireless control system in your vehicle has 3 buttons which can be programmed to operate 3 d
■ Meter display settings that can be changed Language Select to change the language displayed. Units Select to change the units of measure displayed. Meter Type Select to change the meter type. Dial Type Select to change the display of the speedometer or tachometer. Eco Driving Indic