Toyota Corolla Cross: Cruise control
The vehicle can be driven at a set speed even if the accelerator pedal is not depressed.
Use the cruise control only on highways and expressways.
WARNING
■For safe use
■Situations in which cruise control should not be used
Do not use the cruise control in the following situations. As the system will not be able to provide appropriate control, using it may lead to an accident resulting in death or serious injury.
On roads with sharp bends
On winding roads
On slippery roads, such as those covered with rain, ice or snow
On steep downhills, or where there are sudden changes between sharp up and down gradients
Vehicle speed may exceed the set speed when driving down a steep hill.
When it is necessary to disable the system
System Components
■ Meter display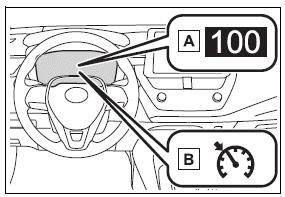 Set vehicle speed
Cruise control indicator
■ Switches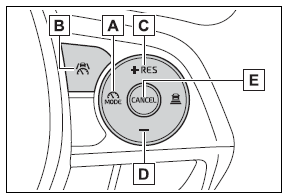 Driving assist mode select switch
Driving assist switch
"+" switch / "RES" switch
"-" switch
Cancel switch
Using the cruise control
Setting the vehicle speed
1. Press the driving assist mode select switch to select cruise control.
The cruise control indicator will illuminate.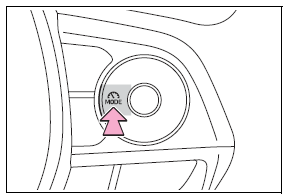 2. Using the accelerator pedal, accelerate to the desired vehicle speed (approximately 20 mph [30 km/h] or more), and press the driving assist switch to set the set vehicle speed.
The vehicle speed at the moment the switch is released will be the set vehicle speed.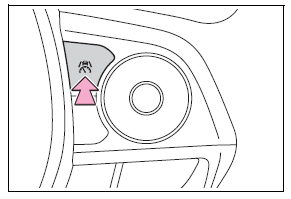 Adjusting the set vehicle speed
Adjusting the set vehicle speed using the switches
To change the set vehicle speed, press the "+" or "-" switch until the desired speed is displayed.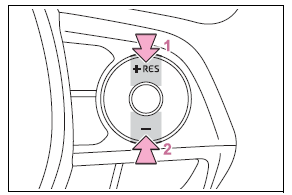 Increase set vehicle speed
Decrease set vehicle speed
The set vehicle speed will increase or decrease as follows: Fine adjustment: By 0.6 mph (1 km/h) or 1.6 km/h (1 mph) each time the switch is pressed Large adjustment: Increases continuously while the switch is pressed and held
Increasing the set vehicle speed using the accelerator pedal
1. Depress the accelerator pedal to accelerate the vehicle to the desired vehicle speed.
2. Press the "+" switch.
Canceling/resuming control
Press the cancel switch or driving assist switch to cancel control.
Control will also be canceled if the brake pedal is depressed.
Press the "RES" switch to resume control.
■Automatic cancellation of the cruise control
In the following situations, the cruise control will be canceled automatically:
When the vehicle speed drops approximately 10 mph (16 km/h) or more below the set vehicle speed
When the vehicle speed drops below approximately 20 mph (30 km/h)
When the brake control or output restriction control of a driving support system operates (For example: PCS, drive-start control)
When the parking brake has been operated
Situations in which some or all of the functions of the system cannot operate.
Display and system operation state
The operating state of cruise control is indicated.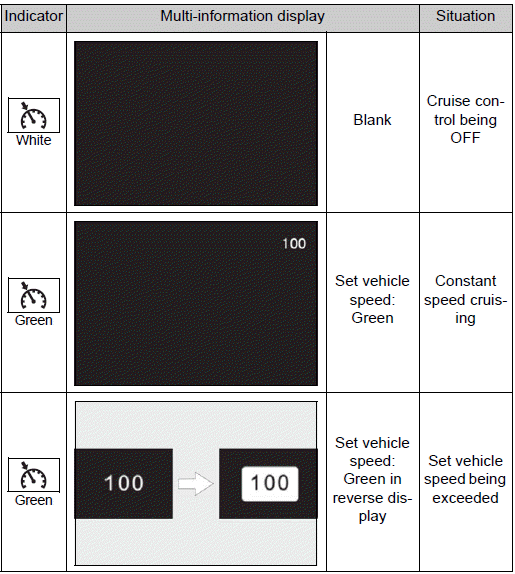 READ NEXT:
The emergency driving stop system is a system which automatically decelerates and stops the vehicle within its lane if the driver becomes unable to continue driving the vehicle, such as if they have s
The Stop & Start system stops and starts the engine according to brake pedal or shift lever operation when the vehicle is stopped, such as at a stoplight, intersection, etc., in order to improve f
When the engine is stopped by the Stop & Start system when the vehicle is on an incline, when the brake pedal is released, brake force is temporarily maintained to prevent the vehicle from rolling
SEE MORE:
■ GCWR (Gross Combination Weight Rating) The maximum allowable gross combination weight. The gross combination weight is the sum of the total vehicle weight (including the occupants, cargo and any optional equipment installed on the vehicle) and the weight of the trailer being towed (including the
Replace the battery with a new one if it is depleted. As the key may be damaged if the following procedure is not performed properly, it is recommended that key battery replacement be performed by your Toyota dealer. ■If the key battery is depleted The following symptoms may occur: The smart ke