Toyota Corolla Cross: Pictorial index
■Exterior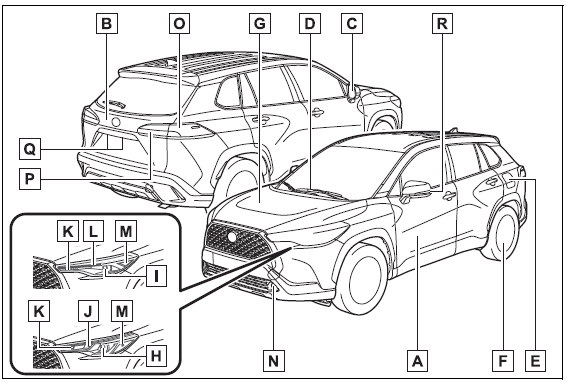 Side doors
Locking/unlocking
Opening/closing the side windows
Locking/unlocking by using the mechanical key*1
Warning messages
Back door
Opening from inside the cabin*2
Opening from outside
Warning messages
Outside rear view mirrors
Adjusting the mirror angle
Folding the mirrors
Defogging the mirrors
Windshield wipers
Precautions for winter season
To prevent freezing (windshield wiper de-icer)*2
Fuel filler door
Refueling method
Fuel type/fuel tank capacity
Tires
Tire size/inflation pressure
Winter tires/tire chains
Checking/rotation/tire pressure warning system
Coping with flat tires
Hood
Opening
Engine oil
Coping with overheating
Headlights/daytime running lights
Headlights
Parking lights
Front turn signal lights
Daytime running lights/parking lights
Front side marker lights
Fog lights*2
Stop lights/rear turn signal lights/tail lights/rear side marker lights
Tail lights*2
Back-up lights
Shifting the shift position to R
License plate lights
Side turn signal lights*2
*1: Vehicles with a smart key system
*2: If equipped
■Instrument panel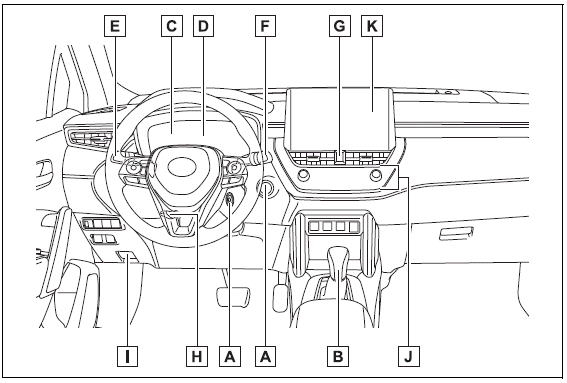 Engine switch
Starting the engine/changing the positions*1
Starting the engine/changing the modes*2
Emergency stop of the engine
When the engine will not start
Warning messages
Shift lever
Changing the shift position
Precautions for towing
When the shift lever does not move
Meters
Reading the meters/adjusting the instrument panel light
Warning lights/indicator lights
When a warning light turns on
Multi-information display
Display
When a warning message is displayed
Turn signal lever
Headlight switch
Headlights/parking lights/tail lights/side marker lights/license plate lights/daytime running lights
Fog lights*3
Windshield wiper and washer switch
Usage
Adding washer fluid
Emergency flasher switch
Tilt and telescopic steering lock release lever
Hood lock release lever
Air conditioning system
Usage
Rear window defogger
Audio system*4
*1: Vehicles without a smart key system
*2: Vehicles with a smart key system
*3: If equipped
*4: Refer to "MULTIMEDIA OWNER'S MANUAL".
■Switches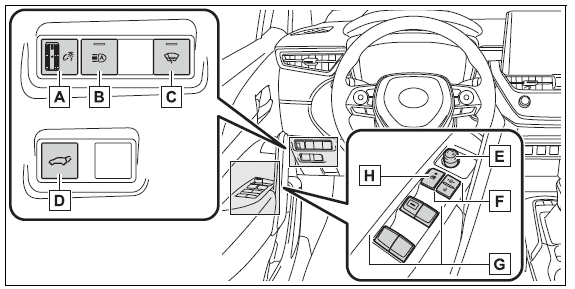 Instrument panel light control dial
Automatic High Beam switch*
Windshield wiper de-icer switch*
Power back door switch*
Outside rear view mirror switch
Door lock switches
Power window switches
Window lock switch
*: If equipped

Meter control switches
Cruise control switches
Dynamic radar cruise control
Cruise control
Audio remote control switches*
LTA (Lane Tracing Assist) switch
Phone switch*
Talk switch*
*: Refer to "MULTIMEDIA OWNER'S MANUAL".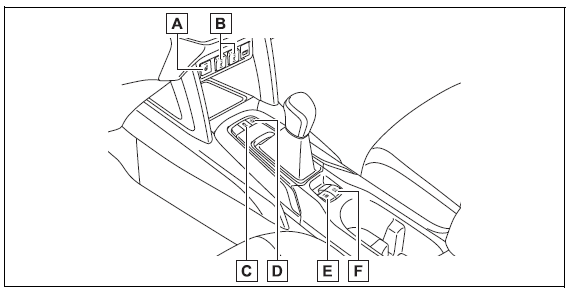 Heated steering wheel switch*
Seat heater switches*
VSC OFF switch
Stop & Start cancel switch
Parking brake switch
Precautions for winter season
Brake hold switch
*: If equipped
■Interior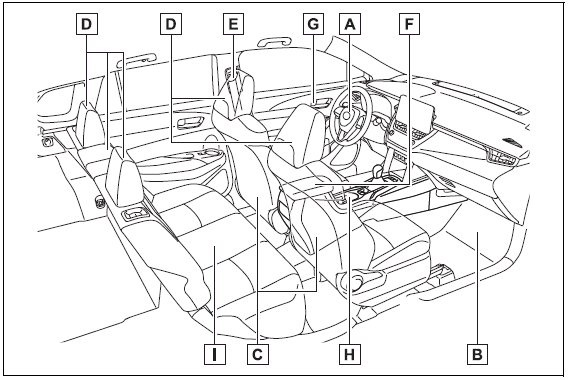 SRS airbags
Floor mats
Front seats
Head restraints
Seat belts
Console box
Inside lock buttons
Cup holders
Rear seats
■Ceiling

Inside rear view mirror
Sun visors
Vanity mirrors
Vanity lights*
Interior lights/personal lights
Moon roof switches*
"SOS" button*
Assist grips
*: If equipped
READ NEXT:
Observe the following before starting off in the vehicle to ensure safety of driving. Floor mat Use only floor mats designed specifically for vehicles of the same model and model year as your vehicle.
SEE MORE:
Air conditioning controls The display and button positions will differ depending on the type of the system. Fan speed control switch Temperature control switch "MAX A/C" switch "A/C" switch Outside air mode switch Recirculated air mode switch Airflow mode control switch Rear window defogge
The vehicle can be driven at a set speed even if the accelerator pedal is not depressed. Use the cruise control only on highways and expressways. WARNING ■For safe use Driving safely is solely the responsibility of the driver. Therefore, do not overly rely on this system. The driver is solel