Toyota Corolla Cross: Meter display
■ Locations of gauges and meters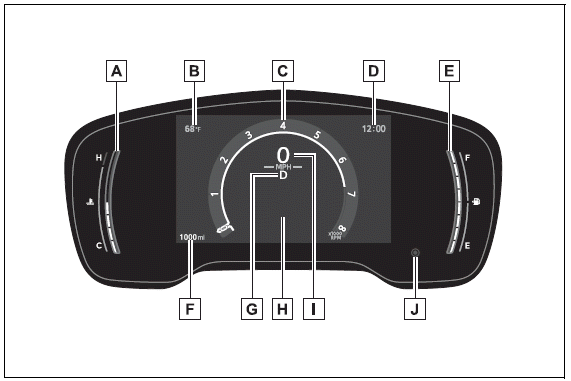 The units of measure may differ depending on the intended destination of the vehicle.
Engine coolant temperature gauge
Displays the engine coolant temperature
Outside temperature
Displays the outside temperature within the range of -40ºF (-40ºC) to 140ºF (60ºC)
Analog speedometer/Tachometer
This setting can be changed on the setting screen.
Clock
Fuel gauge
Displays the quantity of fuel remaining in the tank
Odometer and trip meter display
Shift position indicator
Multi-information display
Presents the driver with a variety of vehicle data
Displays warning messages if a malfunction occurs
Digital speedometer
Display change button
■Outside temperature display
■Customization
The gauges and meters can be customized in

of the multi-information display.
WARNING
■The information display at low temperatures
Allow the interior of the vehicle to warm up before using the liquid crystal information display. At extremely low temperatures, the information display monitor may respond slowly, and display changes may be delayed.
For example, there is a lag between the driver's shifting and the new gear number appearing on the display. This lag could cause the driver to downshift again, causing rapid and excessive engine braking and possibly an accident resulting in death or injury.
NOTICE
■To prevent damage to the engine and its components
Do not let the indicator needle of the tachometer enter the red zone, which indicates the maximum engine speed.
The engine may be overheating if the engine coolant temperature gauge is in the red zone (H). In this case, immediately stop the vehicle in a safe place, and check the engine after it has cooled completely.
READ NEXT:
■ Changing the display Press the display change button until the desired item is displayed. ■ Display items Odometer Displays the total distance the vehicle has been driven. Trip meter A/Tri
■ Display Driving support system status display area Displays an image when the following systems are operating and a menu icon other than is selected: LTA (Lane Tracing Assist) LDA (Lane D
SEE MORE:
Before installing a child restraint system in the vehicle, there are precautions that need to be observed, different types of child restraint systems, as well as installation methods, etc., written in this manual. Use a child restraint system when riding with a small child that cannot properly use a
Harmful substance to the human body is included in exhaust gases if inhaled. WARNING Exhaust gases include harmful carbon monoxide (CO), which is colorless and odorless. Observe the following precautions. Failure to do so may cause exhaust gases enter the vehicle and may lead to an accident caused