Toyota Corolla Cross: Intuitive parking assist
The distance from your vehicle to objects, such as a wall, when parallel parking or maneuvering into a garage is measured by the sensors and communicated via the audio system screen and a buzzer. Always check the surrounding area when using this system.
System components
■ Types of sensors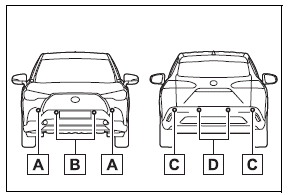 Front corner sensors
Front center sensors
Rear corner sensors
Rear center sensors
■ Display
When the sensors detect an object, such as a wall, a graphic is shown on the audio system screen depending on the position and distance to the object.
For details regarding the audio system screen, refer to the "MULTIMEDIA OWNER'S MANUAL".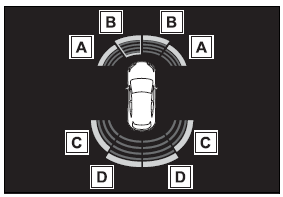 Front corner sensor detection
Front center sensor detection
Rear corner sensor detection
Rear center sensor detection
READ NEXT:
The intuitive parking assist can be enabled/disabled on of the multi-information display. When the intuitive parking assist function is disabled, the intuitive parking assist OFF indicator illuminat
■ Detection range of the sensors Approximately 3.3 ft. (100 cm) Approximately 4.9 ft. (150 cm) Approximately 2.0 ft. (60 cm) The diagram shows the detection range of the sensors. Note that t
The PKSB (Parking Support Brake) consists of the following functions that operate when driving at a low speed or backing up, such as when parking. When the system determines that the possibility of a
SEE MORE:
Head restraints are provided for all seats. WARNING ■Head restraint precautions Observe the following precautions regarding the head restraints. Failure to do so may result in death or serious injury. Use the head restraints designed for each respective seat. Adjust the head restraints to th
The vehicle can be driven at a set speed even if the accelerator pedal is not depressed. Use the cruise control only on highways and expressways. WARNING ■For safe use Driving safely is solely the responsibility of the driver. Therefore, do not overly rely on this system. The driver is solel