Toyota Corolla Cross: Changing LDA settings
The LDA system can be enabled/disabled through a customize setting.
The settings of the LDA can be changed on the customize settings.
WARNING
■Situations in which the system may not operate properly
In the following situations, the system may not operate properly and the vehicle may depart from its lane. Do not overly rely on these functions. The driver is solely responsible for paying attention to their surroundings and operating the steering wheel as necessary to ensure safety.
When the boundary between the asphalt and grass, soil, etc., or structures, such as a curb, guardrail, etc. is not clear or straight
When the vehicle is struck by a crosswind or the turbulence of other nearby vehicles
Situations in which the lane may not be detected
Situations in which the sensors may not operate properly
Situations in which some or all of the functions of the system cannot operate
When it is necessary to disable the system
Displays and system operation
The operating state of the lane departure alert function and steering assist operation of the lane departure prevention function are indicated.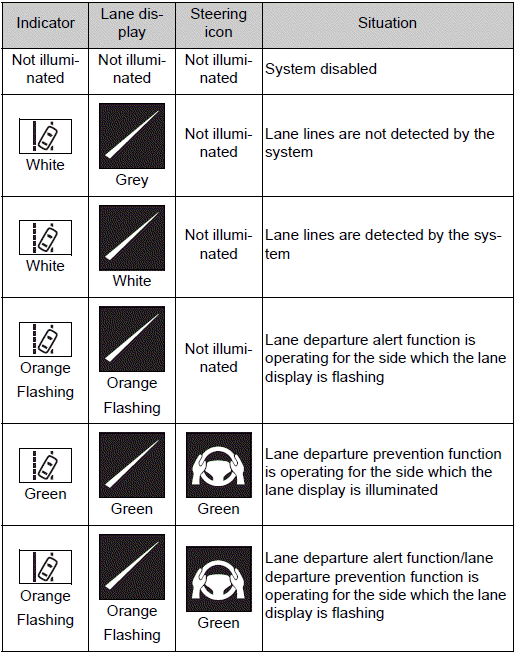 READ NEXT:
The RSA system detects specific road signs using the front camera and/or navigation system (when speed limit information is available) and warns the driver via displays and buzzers. WARNING ■For saf
This dynamic radar cruise control detects the presence of vehicles ahead, determines the current vehicle- to-vehicle distance, and operates to maintain a suitable distance from the vehicle ahead. The
Constant speed cruising: When there are no vehicles ahead The vehicle drives at the speed set by the driver. If the set vehicle speed is exceeded while driving down a hill, the set vehicle speed
SEE MORE:
The rear view mirror's position can be adjusted to enable sufficient confirmation of the rear view. ■When using the outside rear view mirrors in a cold weather When it is cold and the outside rear view mirrors are frozen, it may not be possible to fold/extend them or adjust the mirror surface. Rem
■ Door lock switches (to lock/unlock) Locks all the doors Unlocks all the doors ■ Inside lock buttons Locks the door Unlocks the door The front doors can be opened by pulling the inside handle even if the lock buttons are in the lock position. ■Locking the front doors from the outsid